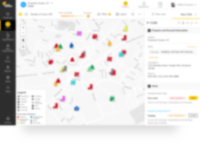 Web and mobile app, website for Organization Management
Crisis Cleanup
Services
UI/UX Design
Graphic Design
We are building a new kind of system.
Who's in charge? You are.
Crisis Cleanup is a collaborative disaster work order management platform that improves coordination, reduces duplication of efforts, improves efficiency and improves volunteers' experience. Crisis Cleaning It works best when a large number of volunteer organizations with many volunteers work together to large numbers of people in a large area, all at the same time.
Mobile App
Iconography and Illustrations
Challenge Create an elegant solution for a complicated platform where everyone can do everything.
Crisis Cleanup proves that it is possible to create a near frictionless technological platform where inter-organization Cooperation, Communication, Coordination, and Collaboration is not only convenient but required.
One of the main challenges on the platform was to create the right user experience where every user can do everything. There are no permission types depending on roles and every one can edit or delete information that was created by any other user.
Why? This platform is for people who really want to help in a time when each second is counted. When people's lives are in line, it much worse to wait hours for someone to approve changes than to put wrong information by mistake. But thinking about possible mistakes, we created the ability to have edits history as well as discard changes.
Website GoalImprove navigation and user flow
Our goal was to clearly tell users what to do if they are Relief Organisation, Volunteer or Survivor.
There was a big problem previously that Survivors were creating accounts as Relief Organizations as well as Volunteers instead of organization created a new one.
This is why we separated Relief Organizations, Volunteers, and Government Agencies into 3 separate flows and highlighted contact information for survivors.
Also, volunteers are forced to select from an existent organization or provide information about a person who has invited them to avoid duplicates.
Platform Goal The right user experience for all user types
Make all platform features like Phone Agent, Cases Map, Internal Layers Editor, Reports, worksites management, organization, and team management easily accessible for relief organizations and volunteers, both from the office and from the field.
Time is really important. The faster volunteers find and fill in information they need the sonner survivors receive help.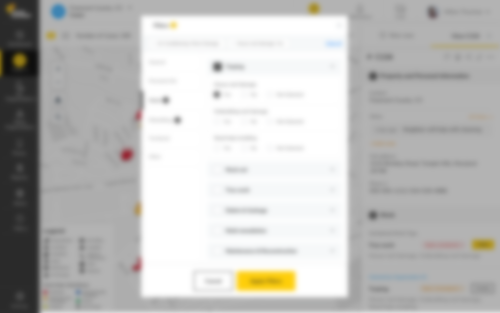 PlatformCases
One of the main features is creating and viewing information about Cases.
Usually, information about cases is filled in by phone operators. Then, slot team leaders log in to crisiscleanup.com and go to a map where they see in realtime which homes need help, and which are being taken already by other organizations. They find a red icon and claim property to clean up.
Once the work is all done, the team leader reports how many volunteers worked, how long they worked, close the work order and provide any additional notes for the follow-up team.
PlatformPhone Agent
Crisis Cleanup found volunteer organizations to manage virtual call centers. People started calling and asking for help.
After receiving a call, operators are entering and organizing information that they got. So every crew will get real-time data about what homes are being taken care of, what homes are assisted and what homes need assistance.
For this important feature, we created an internal call center for inbound and outbound calls.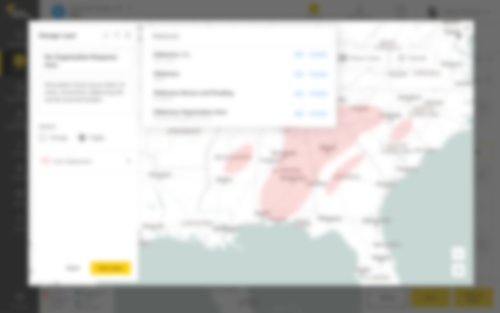 PlatformLayers
On the platform, organizations can easily add the area of their responsibility and get access to the Crisis Cleanup Cases Database. This allows providing information to other organizations what areas are being taken care of and avoid duplications.
Mobile App Work effectively in the field
When you are in the fields, it is really important to easily navigate to homes that need help, to see important information about the case, as well as update the case status after work is done. Also, volunteers need easily communicate with each other.
We concentrated on three main things in the application Map, Users and Organizations
Work with Cases
Work on field is different from the management work. We analyzed all features, selected the most common and reorganized them in terms of accessibility and frequency of use.
Organization Management
Organization is its members. From the field worker perspective the most important function is a communication with their team and an easy access to the team information, assets and statistic.
The main difference of field working with cases is that user should have an ability to easily and quickly assign the case on themselves, provide the information about the case and then close it.
Results Crisis Cleanup - is
not a technology.
It's a philosophy
Since 2012 more than 650K volunteers used
Crisis Cleanup and helped in 143 disasters with 25% higher efficiency.
Crisis Cleanup assisted 80,905 Households. 20,000 of them wouldn't receive help without Crisis Cleanup.
New Design has just been implemented but we already received first feedback from the users and it has been universally positive! People have described it as "clean", "fresh", "intuitive" and "exciting."
We are really excited that our work has been noticed and appreciated by people in the field.
>630K

Volunteers who used Crisis CleanUp

143

Disasters Crisis CleanUp helped to coordinate

25%

Higher efficiency for each volunteer

80,905

Householders assisted by Crisis Cleanup

100%

Positive feedback from the users
They are unafraid of hard problems.
Netrix implemented an entirely new UI/UX, adhering to my non-standard project requirements.
Let's Start Creating Something Special!