Online builder for illustrations
ITG.Digital
Services
UI/UX Design
Motion Design
Branding
Graphic Design
Marketing Strategy
Front-end Development
Back-end Development
Illustrations to Go
ITG.digital is an online builder for illustrations. Our goal is to provide people with a tool where anyone can easily find and customize illustrations according to their needs without any special software or knowledge. ITG is not another illustration pack, it's an Illustration Platform which allows automatically create custom illustrations from predefined elements.
Challenge Create a platform where anyone can easily find and customize illustrations according to their needs.
Finding and creating right visuals (especially illustrations) is a really pain point even for designers. This process takes a lot of time and money. Marketers, designers, business owners, entrepreneurs use illustrations on a weekly basis in their websites, mobile apps, posts, presentations. They need them to communicate their ideas visually.
So ITG.digital was created to simplify and even automate this process and help anyone easily find and customize illustrations according to their needs without any special software or knowledge.
Website Goal Get first users at no cost.
For each startup it is important to move fast but we had one side goal - get free traffic with our potential users. We wanted to win the site of the day award on awwwards.com. We successfully did it and during the 1st month got around 2,000 subscribers potentially interested in product.
This helped us to receive and analize a lot of data which allowed to work on improvements. We changed some wording and added blocks with social proof (links to articles and tweets) that let us increase landing page conversion from 34% to 39.6%
App Goal Make the process of creating illustrations easy even for not a designer
Our goal was to make the process of creating visuals easier, faster and less expensive without any special knowledge or software required, so not only designers but also marketers, bloggers, startup owners have an ability to create custom graphics.
On the other hand this platform are going to be marketplace so we needed a simple way to upload illustration to the builder to be used by illustrator from all over the world.
Solution Online builder for illustrations
We designed our online builder that allows creating custom illustration: apply brand colors, styles, add or remove elements to tell your story.
According to our research, most of the things that people do with illustrations when they found them somewhere are: change color, add/remove elements. And this features was included into Version 1.0 as well as the ability to change the main characters.
As for illustrators we've created custom sketch and figma plugins to easily upload illustrations to the builder.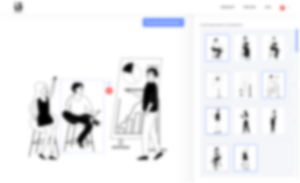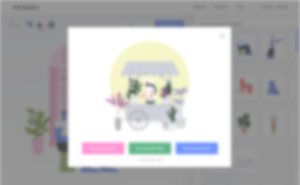 A little bit more about our animations
To have awesome animations but speed up the process of website development we used Lottie. And we can say that is saved us many times when we were working on ITG.digital — we implemented our ideas 3 times faster compared to using javascript animations.
And the most important — we got final animations exactly how we imagined them. Animation in After Effects is much easier and more flexible tool than javascript animations. That allowed us to be more creative in the design process. You can read more about lottie animations and our experience with it in our article
Illustrations more than 2,000 vector illustrations and 1,000,000 unique combinations
We created more than 2,000 custom illustrations and each of them consist from 1 to 12 elements and each element has from 2 to 50 alternatives.
To have alternatives in builder, we need to follow strict rules in illustrations structure and elements naming. This allows us uploading illustrations to builder in one click.
Right now we have 5 different styles: ordinary, giants, plasticine, black&white and isometric. We receive a lot of feedback and requests each day and continue working on new illustrations and styles.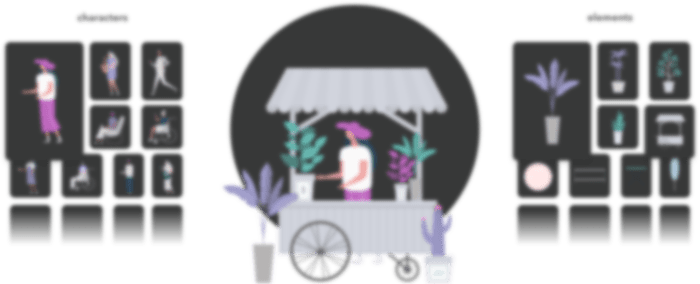 Results Successfully launched version one
For the first 5 months we received 10,000 users 51% of them actively use our online builder. In the first month we had 5,000 visitors on our website, and now this amount increased to 15,000/monthly.
Among this time we won several design contests like Awwwards, Webby and RedDot and successfully launched on Producthunt.
More than 100 publications in different blogs and resources such as Enterpreneur, Mashable helped us increase awareness.
This is ony beginning and we are working on version two with more cool features.
Don't want to use readymade illustrations? 🖌️
Make your own easily ✨👇
Let's Start Creating Something Special!